---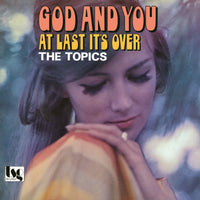 THE TOPICS

『

God And You / At Last It's Over

』7inch

P7-6495
Format: 7inch
Price: ¥2,050yen+tax
Release data:2023/06/14

★First complete limited production
★Pera Jacket Specification

This is a single cut from the extremely rare sweet tea disc - The Topic "Giving Up", which is twinned with The Ultimettes in the TSG catalog, where the market trading price of the original disc is lightly over 300,000 yen!

Giving Up", the only album by the New York vocal group The Topics, was released on TSG, a treasure trove of rare records, and was known to diggers as a rare record that could rarely be seen. It was also highly acclaimed as a masterpiece of sweet soul due to its wonderful content! From this ultimate sweet tea disc, the superb medium soul songs "God And You" and "At Last It's Over" are coupled with mellow vocals and chorus harmonies that showcase the vocal group's skill as a vocal group!
---
■Track list
SIDE B:
1. At Last It's Over