---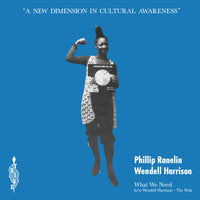 WENDELL HARRISON & PHIL RANELIN『What We Need / The Wok』7inch
P7-6455
Format: 7inch
Price: 2,200 yen + tax
Release date:2022/02/02
★Limited First Edition
★Original Picture Sleeve Specification

A NEW DIMENSION IN CULTURAL AWARENESS is the catchphrase of the spiritual jazz label Tribe Records, which was born in Detroit in 1972.The most important song "What We Need" from the first album "Message From Tribe" was finally cut as a single.Here is the essence of the black groove that has had a profound influence on a wide range of contemporary scenes, not only the hip-hop scene but also Detroit techno, including Carl Craig!

Tribe Records' activities over the past five years, from its sophisticated jazz-based funkiness to its self-produced magazine, have remained influential and unfading even today.Through their various activities including sound, words, and visuals, they have been sending out their message locally, hoping for "a society where Black Americans are respected," while maintaining their seriousness and conviction.
What We Need" is a soulful jazz-funk song with cool electric piano, a crisp horn section, and powerful yet seductive vocals.Their strong message of sublimating the concept of black power, seeking unity, and questioning what is needed now for freedom, spun majestically on a cool groove, must have had a great impact on Detroit at the time.

Later, in the 80's, Wendell Harrison, one of the organizers of Tribe, started RebirthRecords with Wenha, which mainly released his own solo works. Tribe changed form and became more musically diverse, moving from the funk tunes of the 70's to a sound closer to fusion.For the coupling track of this album, I picked up "The Wok" from Wendell Harrison's album "Organic Dream" released from Wenha.The sound is oriental, exhilarating and mellow, but it is underpinned by a sturdy rhythm inherited from Tribe, making it distinctly different from the so-called general fusion sound.
Like the logo of the tribe, which has two faces with arrows between them, I hope you will enjoy the contrast between the black spiritual side of the 70s and the shadows and light of the transition to mellow dancers while inheriting it.
---
---
---
■Track list