---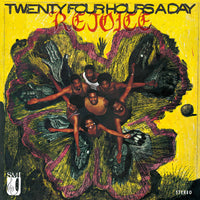 MESSENGERS INCORPORATED『Twenty Four Hours A Day / Rejoice』7inch
P745-43
Format: 7inch
Price: 1,800 yen + tax
Release date:2022/01/26
★Keep It Rollin' 45th×45rpm!!
★groove-diggers
★First time limited production
★Pera jacket specification

This is the ultimate! Two miraculous songs from "Soulful Proclamation," a funky soul treasure released in 1972 by a local Oklahoma band, have been cut as singles!

While the word "ultimate" has become a common phrase in the world of rare grooves, there are some records that you can't help but be convinced that their rarity is only matched by the excellence of their content.This album, which was recorded in Oklahoma, was literally dug up during the deep funk boom, and is a real gem!
The A-side is the highlight of the album, "Twenty Four Hours a Day," a melancholy funky dancer sung by Barbara Burton that was also included on a certain mix CD!The rough sound quality of the 1970 recording, the galloping saxophone solo, and the rough organ synergize to create a miraculous three-minute sound.And on the B-side, the high-tension instrumental funk "Rejoice," which closes the album, is now available as the first single!
It's been exactly 50 years since the album was released. A special 7" is released to commemorate the anniversary!
---
---
---
■Track list
SIDE-A:
1. Twenty Four Hours A Day