---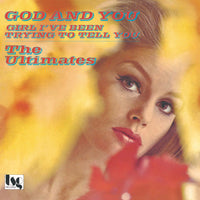 THE ULTIMATES『God And You / Girl I've Been Trying To Tell You』7inch
P7-6390
Format: 7inch
Price:2,050円+tax
Release Date:2023/08/16
★First time on 7"ep
★Flipback Jacket
Completing the trilogy! The sole album from The Ultimates, You're My Lady is considered a part of the "Three Beauties", a reference to the three TSG albums adorned with beautiful women on the cover (the other two are Ricardo Marrero & The Group's A Taste and The Topics' Giving Up). With original copies going for over $3,000 on the second hand market you knew it was only a matter of time before we reissued it! This latest reissue sees us combine two of the most killer cuts from a killer album, and combine them on a limited edition 7-inch single!
A-side "God And You" is getting its first ever single cut, and contains the kind of sweet singing and groove that'll get you up and dancing in no time. B-side "Girl I've Been Trying To Tell You" is a mid-tempo soul number, and listening to these two combined will truly show you why they were called The Ultimates!
This 7-inch single is the first time that soul number "God and You" is being released as a single!

---
■Track list
SIDE-B
1. Girl I've Been Trying To Tell You