---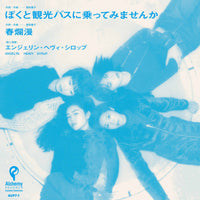 Angel'in Heavy Syrup『僕と観光バスに乗ってみませんかc/w春爛漫』7inch
ALP7-1
Format: 7inch
Price: ¥2,050 + tax
Release date.:2022/10/19
★First complete limited edition
Alchemy Records Essential Collections
Alchemy Records' reissue project is now under way, including albums by the band Emergency Staircase, founded by JOJO Hiroshige in 1984 and led by himself, and following a wide range of genres such as noise, punk and psychedelic!

Legendary girl psychedelic & progressive rock band, still internationally acclaimed, Angelin Heavy Syrup, respecting Doji Morita with two precious songs, on 7"!
A four-piece female group from Osaka, reputed to be the pinnacle of Japanese neo-psychedelic music. The band's world is a fragile yet beautiful one-of-a-kind blend of prog rock, psychedelic elements and clear vocals that resonate with a sense of melancholy. It is said that their fastidious and highly pure music was only possible in the underground.
Coupling of 'Why don't you take a sightseeing bus ride with me', which was heard on Angeline Heavy Syrup's debut album, and 'Spring Blossom', which is only included on the best of album.
※Credit card payment
Payment for this product will be made before the product is released (payment at the time of order).
If you wish to cancel or refund your order before the release date, please contact store@p-vine.jp.
---
■Track list
SIDE A:
1. 僕と観光バスに乗ってみませんか