---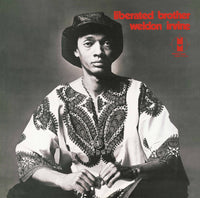 WELDON IRVINE『Liberated Brother』CD
PCD-94093
Format: CD
Price: 2,400 yen + tax
Release Date: 2023/09/06
★Paper Jacket
A memorable debut album released in 1972, featuring many songs covered by jazz giants and a killer song, "Homey," popular in the rare groove scene!

Although he rose to prominence in the NYC jazz scene, working as Nina Simone's exclusive touring pianist, he never blossomed as a solo artist, so he decided to take the plunge and create "Liberated Brother" on his own. This work, which was completed in just 2 days of rehearsal and 5 hours of recording with trusted musicians, is an important work that instantly boosted his popularity as a composer!
The opening title track, "Liberated Brother," is a Latin-taste instrumental covered by Weldon's mentor, Horace Silver. Freddie Hubbard, J.J.Johnson, Peter Hervorzeimer and others have covered "Mr. Clean", which has a complex melody but a memorable phrase. Stanley Turrentine covered jazz-funk "Sister Sanctified" with comical synth phrases, and the version was re-evaluated with the sampling of Boogie Down Productions' "My Philosophy". The album "A Tribute to Brother Weldon" released in 2004 on Stones Throw after Weldon's death covers Blakestra. And jazz funk with a strong blues taste, "Homey" is a super classic that was heavily played on the dance floor in the 90's. The simple and groovy drums with few sounds and the melancholy melodica played by Weldon are cool and very sophisticated songs, and I agree that it was useful in the rare groove scene.
A work that triggered the recognition of his talent as a composer, with such a large number of masterpieces recorded. Don't miss this opportunity!
---
■Track list
1. Liberated Brother
2. Here's Where I Came In
3. Blues Wel-Don
4. Mr. Clean
5. Gloria
6. Homey
7. Juggah Buggah
8. Sister Sanctified