---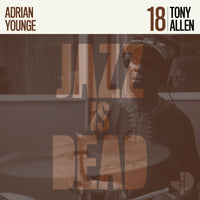 Tony Allen (JAZZ IS DEAD 018)『ADRIAN YOUNGE & ALI SHAHEED MUHAMMAD』LP
PLP-7668
Format: LP
Price:5,000+tax
Release date:2023/07/26
★With Obi
★Imported version with domestic distribution
★Color vinyl
Jazz Is Dead" has become one of the most popular labels in the L.A. underground and jazz scene, thanks to its first series of 10 releases, which were successfully completed even in the midst of the Corona disaster, when the label was unable to hold the live events that are the starting point of the label. The eighth installment of the second series is now available. This eighth and final installment of the second series features Tony Allen, Fela Kuti's right-hand man and the founder of Afrobeat, who unfortunately passed away in April 2020.
As Fela Kuti says, "Without Tony Allen, there would be no Afrobeat." Tony Allen is the legendary drummer and musical director of Fela's band, Africa 70. He is also one of the biggest contributors to Afrobeat, behind songs like "Water No Get Enemy" and "Zombie" from Fela's heyday, and also led Africa 70 in the production of "Progress" and "No Accommodation For You". Tony's influence on the younger generation has been broad, as evidenced by the release of "Asiko" by J Dilla on his 1999 album Black Voices, and the release of his own "Progress" and "No Accommodation For Lagos" as a leader of Afrika 70. For example, in hip-hop, J Dilla sampled "Asiko" from his 1999 release "Black Voices" on Common's "Heat," and in rock, Blur's Damon Albarn is a big fan of Tony's work, often collaborating with him on projects such as Gorillaz and Good the Bad & the Queen. In the past, Tony collaborated with Jimi Tenor on a collaborative album for Strut's "Inspiration Information" series, which has thrilled drummers and beat-makers around the world, and Jazz is Dead is proud to announce a dream collaboration with Tony.
The Midnight Hour (Adrian Young and Ali Shaheed Muhammad) have already proven that jazz is not their only musical preference, having performed with numerous Brazilian music legends in their first series. Just as "Ebun," which was included in the debut compilation "Jazz Is Dead 011," had a sound reminiscent of Africa 70, the Midnight Hour's Afrobeat style is boldly deployed throughout the entire album. The psychedelic keyboards of "Steady Tremble," tailor-made for dance floors around the world, and the moody mid-tempo "Gentlemen," reminiscent of Fela Kuti's classic "Gentlemen," are all on this album. The moody mid-tempo jam "Makoko" recalls Fela Kuti's classic "Gentlemen," and "No Beginning" features a jazz-tinged horn section freewheeling over Tony's pounding beat. The album closer "No End," which continues uninterrupted from there, is a highly recommended package of the ideal fusion of the hip-hop generation's jazz sensibilities and Afrobeat, achieved across eras and continents. This is a highly recommended album.
---
■Track list
SIDE A:
1.Ebun
2.Steady Tremble
3.Oladipo
SIDE B:
1.Don't Believe the Dancers
2.Makoko
3.Lagos
4.No Beginning
5.No End