---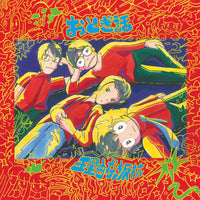 Otogibanashi『Riyuu Naki Hankou』LP
PLP-7780
Format: LP
Price:4,000yen+tax
Release:2022/03/23
★First complete limited edition
★Special jacket with new illustration by Takeshi Jimbo
★Latest remastered sound source in 2021
Otogibanashi Hibiya Yaon one-man live concert is scheduled!
Long-awaited first LP release! The early masterpiece "Riyuu Naki Hankou" has been remastered and revived. This is a special edition with a jacket newly written by popular illustrator Takeshi Jimbo.
A masterpiece second album released in 2008.
This is the first analog version of this popular album, which includes many classic live songs such as "Neon Boys" and "Smile".
The jacket, newly designed by popular illustrator Takeshi Jimbo, who is a close friend of the band members, will entice buyers to purchase the album.
This is a must-have item for fans as they prepare for their one-man live performance at Hibiya Yaon on August 13 next year.
---
---
■Track list
SIDE A:
1. ネオンBOYS
2. FUN CLUB
3. また、よろしく
4. おとぎ話の「愛」のテーマ
5. 赤へ飛び込め
6. クラシック
SIDE B:
1. 理由なき反抗
2. BLUE BLUE
3. SMILE
4. 俺達に明日は無い
5. FESTIVAL EXPRESS
6. とびらをあける