---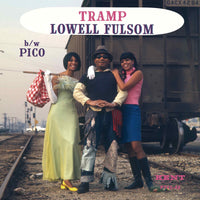 LOWELL FULSON『Tramp / Pico』7inch
P745-45
Format: 7inch
Price: 1,800 yen + tax
Release date:2022/03/09
★Keep It Rollin' 45th×45rpm!!
★ First-time limited production
★ Pella jacket specifications

Lowell Fulson, a bluesman whom B.B.King admired as a "sleeping giant." His representative song, "Tramp", which is an extremely important song in the history of black music, which connects blues to hip-hop as "original funk blues", is an original coupling of its instrument "Pico". Reprinted here with 7-inch specifications!

Trump isn't the Queen of Spades, or the nominee for the president, but the wanderer (but owns three Cadillacs).The playing cards show the ultimate power of the blues. It is an unprecedented album that is transmitted not only to blues but also to the flow of black music taiga. Blues but funk.This funk beat later plunged into hip-hop in large quantities, demonstrating the presence of continuous black music.There is plenty of deep blues, and a great blues voice singer named Lowell stands out.I'm a guitarist, but above all, I'm a blues singer, so if you don't feel like blues unless your guitar sings, goodbye.
If you listen to this album and a masterpiece album that summarizes Lowell's early blues, the development of 100 years of black music will spread to your eyes.Let's experience the music from the blood flowing on the farm to the back door of the devastated city dwelling.
――Yasufumi Higurashi(P-VINE Founder)

* This is a comment posted in 2016 about Lowell Fulson / Trump (PCD-22307).
---
---
---
■Track list