---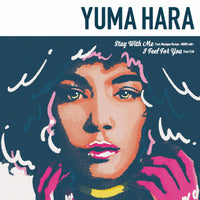 YUMA HARA『Stay With Me (MURO edit) / I Feel For You』7inch
P7-6288
Format: 7inch
Price: 1,800 yen + tax
Release date:2022/01/26
-Toshikazu Kanazawa, supervisor, Light Mellow Searches
The long-awaited 7" cut from the latest album "Reality" by YUMA HARA, a young talented artist who has inherited the "jazz x soul x funk" DNA of Quincy Jones, Roy Ayers, etc., with his production work and his outstanding performance skills in which he plays almost all instruments by himself!

The single version of the smash hit R&B song "Stay With Me," which has been featured on many FM powerplays and playlists, with MURO's edit, and the cover of "I Feel For You," a famous song by Prince and a hit for Chaka Khan. It's a floor-like double-sider with a cover!
---
---
■Track list
SIDE A:
1. Stay With Me feat.Monique Marian (MURO edit)
SIDE B:
1. I Feel For You feat.FiJA