---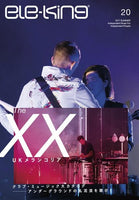 Feature 1: The XX Latest Long Interview/UK Melancholic Pop
Special Feature 2: Club Music Large Catalog - Listen to the Turbulence of the Underground!
ele-king "vol.20" is a big feature of dance music/electronic music!
The scene of the past few years is divided into topics and explained. We also have more than 50 powerful records that you should check out.
In addition, we will introduce 22 Japanese producers who are making remarkable international achievements, along with their major works.
In the interview, Harvey Sutherland from Melbourne, Floating Points from London, Mark Flash from Detroit, Clap! Clap! from Italy, and Gonno from Japan. There is also an interview between Powell (London) and Kohei Matsunaga (Japan).
If you read this, you can see the trend in the last 2-3 years
In addition, The XX, who is visiting Japan for Fuji Rock, has a long interview on the cover and the beginning of the book. Along with their articles, there is also an attempt to decipher the genealogy of UK melancholia pop, from Nick Drake to Massive Attack and Belial.
Release date: 2017/07/14