---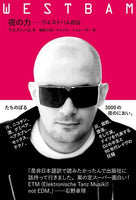 Germany danced, more violently than any other country...The story of Germany, the techno powerhouse, is now revealed in a radical way, and the autobiography of Takkyu Ishino's ally and pioneer of the German techno scene, West Bum, is finally out!
How did Berlin become a techno hub?
Punk, Neue Deutsche Welle, DAF, DJ culture, gay culture, Chicago house, Detroit techno, UK rave culture, Second Summer of Love, Berlin Wall, Eastern craze, Love Parade, German trance, a blessed generation, and the decline of the rave community...
A very dope story of German techno West Bum, a nationally popular German DJ who is also known as an ally of Takkyu Ishino, depicts his life and the madness of rave in the 1990s.
A very dope story of German techno - the long-awaited translation!