---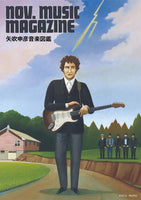 "I was so happy when I found Nobuhiko Yabuki's drawings in the official Bob Dylan box set. It makes me smile when I look at the drawings of so many musicians." - Keiichi Suzuki "Slightly distorted. There is a sense of sensuality in neat light and shadow." - Manabu Yuasa "Nobu, who had acquired the demeanor of an adult since he was young, has become more and more refined, and has become an old man who looks like oxidized silver. "-Teruhiko Yumura
This is the first art book focused on music by Nobuhiko Yabuki, an important Japanese illustrator along with Teruhiko Yumura and Yosuke Kawamura, who graced the cover of New Music Magazine for six years from its inception in 1970!
The soft, deep, warm, and comforting depiction of ``you can even hear the music'' is gentle on both the artist and the viewer.
In particular, it is one of the best masterpieces of Bob Dylan and The Band, which he loves so much.
Famous record jacket artists include Nobuyasu Okabayashi, Goro Nakagawa, Tadashi Kosaka, Happy End, Vineyard, Yosuke Yamashita Trio, Yumi Matsutoya, TIN PAN ALLEY, LIVINGSON TAYLOR, and MFQ.
In recent years, he is also known for Naotaro Moriyama's 3 His W.
Besides that, what about the unique masterpiece "Sazae-san's Smile"? Or "Peko-chan"? Also posted!