---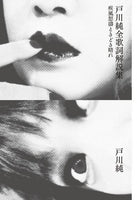 "Jun Togawa Complete Lyrics Commentary - Gale, Storm, and Sometimes Sunny" Jun Togawa (author)
Release date: 2016/11/25
Tax-included price ¥2,530 (tax-excluded price: ¥2,300)

Still, I will say that I do not know loneliness Jun Togawa's 35th anniversary project of her debut, commentary on all songs by herself that will give courage to all readers. Now the meaning (secret) of her words will be revealed!
From classical music to punk, her pop singer Jun Togawa, who has sung numerous stories with Rainbow Voice, is the first complete song commentary collection.
"Tamahime-sama," "Woman of Chrysalis," "Red Tank," "I love you, I love you, I love you." ──Honestness and gimmicks, last-minute sadness and the most selfishness in the universe. Passion and logic, thought and body! 35 years after her debut, the secret of that song that can still be said, the scheme of this song is revealed with a unique and clear logic. Preservation version covering all songs for 35 years! !
Come on, those at the bottom, don't forget the ambitions you had in your youth. The passion and opinions of the late modern Utamahime, who has always believed that she was born to live! Self-actualization! Do you have anything to complain about?