---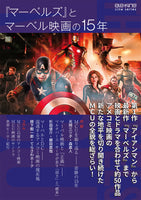 "Marvels" and 15 years of Marvel movies (ele-king cine series)
Price:1,800yen+tax
Release:2023/10/30
ISBN:978-4-910511-60-3
This one book is all you need to prepare for the new MCU movie "Marvels!
The world of Marvel movies and Marvel Comics in preparation for the new MCU movie "Marvels!
The Marvel Cinematic Universe (MCU) has long been the world's largest film franchise. The latest installment in the MCU is "Marvels," featuring Marvel's most powerful hero ever, Captain Marvel, and a new generation of his friends! Ahead of this release, the ele-king cine series takes another look back at the MCU's 15 years.
It has been 25 years since "Iron Man" in 2008. From Phase 1 to the current Phase 5, more than 30 films have been produced, and in recent years, the MCU has begun to expand with dramas.
It is now difficult to get a complete picture of the MCU's 25-year history, and this book is the perfect preparation for the new films!

Table of Contents
Introduction
Characters of "Marvels" in the Original Story Shunsuke Nakazawa
A Look Back at MCU: 15 Years of Miracles / Mitsuko Mitsuoka / Naoto Mori

Filmography
■Phase1 Unprecedented project in its infancy Machizo Hasegawa
■Phase2 Calm before the commotion Yaeko Mana
■Phase3 Explosive power that ran parallel to the times Naoto Mori
■Phase4
Wanda Vision - Mitsuko Mitsuoka
The Whereabouts of the Captain's Shield -- "Falcon & Winter Soldier" - Samurai Kung Fu
A beloved villain who charms even in the multiverse -- "Loki" Yaeko Mana
Reminiscence of the breakneck pace -- "Black Widow" Shunsuke Nakazawa
A short "what if" story that will tickle the hearts of fans -- "What If...? Samurai Kung Fu
An action fair full of homages to Hong Kong cinema: "Shan Chi: The Legend of the Ten Rings" by Takahashi Talyan
The Coming "Cinematic Universe" - "Eternals" Atsushi Sasaki
The old and new Hawkeye on the run - "Hawkeye" Samurai Kung Fu
Peter Parker as an adult -- "Spider-Man: No Way Home" Machizo Hasegawa
A unique work of a hero with multiple personalities--"Moon Knight" Samurai Kung Fu
Mock-Up Mash-Up All at Once Upon a Time in America--"Doctor Strange: Multiverse of Madness" HIROSHINIKOV
The Miz Marvel" Mitsuko Mitsuoka
Comedy Standing Outside the Paternity -- "Thor: Love & Thunder" Takeshi Kizu
Lovely little film -- "I Am Groot" Samurai Kung Fu
Meta Comedy: "She-Hulk: The Atonement" Samurai Kung Fu
The World of Classic Horror Revived: "Werewolf by Night" Samurai Kung Fu
Black Panther: Wakanda Forever" Hasegawa Machizo
A Heartwarming Christmas Story--"Guardians of the Galaxy: Holiday Special" Samurai Kung Fu
■Phase5
Fools Come in Quantum Quantum - "Ant-Man and the Wasp: Quantomania" HIROSHINIKOV
An exhilarating romp -- "Guardians of the Galaxy: VOLUME 3" Terasawa Hawk
Nick Fury and his predicament -- "Secret Invasion" Terasawa Hawk

interview
Marvel Films and "Justice" -- "Weakness" and "Inheritance" in the Multiverse Saga Shunsuke Sugita / Naoya Fujita
Column
American Comic Comic Films before the MCU Shunsuke Nakazawa
MCU Movie Soundtracks - Machizo Hasegawa
Hero's Journey Around the World HIROSHINIKOV
interview
Marvel & DC――American comic book films in turmoil: where they are now Kiichiro Yanashita / Terasawa Hawk
https://www.ele-king.net/books/009571/