---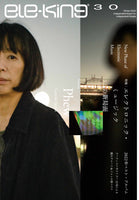 ele-king editorial department (ed.) "ele-king vol.30"
Base price: 1,500 yen + tax
Release date: 2022/12/27
ISBN: 978-4-910511-34-4
■ Special Feature: A New Phase of Electronic Music
Cover/opening interview: Phew
Interview: Lorraine James
Tracking new trends in electronic music that have changed drastically since Corona,
A large encyclopedia of music that will determine the direction of the next 10 years!
A column that gives an overview of each scene, a disc guide, a glossary of terms, a new generation of Japanese electronic music, etc.
■2022 Best Album Special Feature
A summary of 2022 with the best by genre and individual charts by over 20 writers / DJs, 30 2022 + 23 reissues selected by the editorial department!
table of contents
Special Feature: A New Phase of Electronic Music: The Journey of Electronic Music in the 2020s
Interview Phew (Tsutomu Noda)
About Phew──The indescribable power to affirm life (Naratsugu Hosoda)
Interview Lorraine James (James Hadfield/Rie Eguchi)
disc guide
50 Must-Hears of Electronic Music of the 2020s
(Hayato Takahashi, Itaru Mita, Yusuke Kawamura, yukinoise, Denshinoto, James Hadfield, Tsutomu Noda, Takune Kobayashi)
Basic Knowledge of Genre Terms to Enjoy the 2020s (Tsutomu Noda + Itaru Mita)
column
A New Era of Japanese Electronic Music (James Hadfield/Rie Eguchi)
Bass music is moving (Mita Itaru)
A movement called "decolonization" that will shape the 2020s (Yuko Asanuma)
Music is returning to its ancient "magical" existence (Miranda Remington)
The era of violence and fear (Takashi Mita)
30 best albums of 2022
23 Best Reissues of 2022
Top 10 in 2022 by genre
Electronic dance (Hayato Takahashi)
Techno (Kyoya Inomata)
Indie rock (Ryutaro Amano)
Jazz (Hiroko Otsuka/Mitsuru Ogawa)
House (Kyoya Inomata)
Indie rap (Genaktion)
Japanese rap (Tsuya-chan)
Ambient (Itaru Mita)
My top 10 favorites in 2022
──Individual charts by a total of 23 groups including writers/artists/DJs
(Emi Aoki, Yuko Asanuma, Ryutaro Amano, Hiroko Otsuka, Takuro Okada, Mitsuru Ogawa, Miro Oyamada, Yusuke Kawamura, Tsuyoshi Kizu, Yuji Shibasaki, Genichi Sugita, Hayato Takahashi, Tsuya-chan, Denshinooto, Momo Nonaka, James S. Hadfield, Shin Futaki, Shigetsugu Hosoda, Mars89, Ian F. Martin, Takashi Makabe, Itaru Mita, yukinoise)
Words sung during the "too long voyage'' ─ Japanese pop music and its lyrics in 2022 (Ryutaro Amano)
2022 was a tough year (Matthew Chozik + Maki Mizukoshi + Tsutomu Noda)
Cover portrait: Masayuki Shioda
Collage: Satoshi Suzuki