---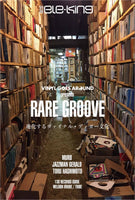 VINYL GOES AROUND (supervision) "Separate volume ele-king VINYL GOES AROUND presents RARE GROOVE ─ Evolving vinyl digger culture"
price: 1,800 yen + tax
Release date: 2022/10/26
ISBN:978-4-910511-30-6
A long-awaited book for diggers, featuring rare grooves in 2022!
In the 2020s, "Rare Groove" is slowly gaining popularity around the world. Coupled with the vinyl boom, we are now in the era of "rare grooves." Digger's long-awaited "Rare Groove" special feature!
Through interviews with DJs and famous diggers, disc guides, and articles from various angles, we shed light on the background, history, and current state of "Rare Groove."


Interview: MURO/Jazzman Gerald/Toru Hashimoto
130 Rare Groove Classic Disc Guide / Introducing representative records of random rap and modern soul / Basic knowledge of the Tribe label and Weldon Irvin / Hip hop and sampling culture / 70's music becomes club music from the 90's onwards The influence on music, the role played by compilations, record cutting reports, and much more!
table of contents
[Interview]
MURO (Kazunori Harada)
Jazzman Gerald (Kazunori Harada)
Toru Hashimoto (Kazunori Harada)
Kantaro Ihara (VINYL GOES AROUND + editorial department)
[Disc Guide]
130 rare groove must-listen selections
(Masashi Hashimoto, B.V.J., DJ Pigeon, TOMITA, CHINTAM, Yusuke Akiba, DJ Yama, Yoshihiro Nagasawa, Masaki on the Mic, Satoo Mizutani, Mao Yamazaki)
[Big Legacy]
Weldon Irvine (Minoru Wakasugi)
Tribe (Minor Wakasugi)
[Rare disc search]
10 pieces of random rap (DJ BUNTA)
20 pieces of modern soul (Mr. Disco Kid)
[column]
Hip hop and rare groove (Akira Obuchi)
Club music and rare grooves (Mitsuru Ogawa)
Rare Groove and City Soul (Akira Obuchi)
10 Rare Groove Compilations (Mitsuru Ogawa)
Recent Sampling (Toshikazu Kanazawa)
Introducing the book "The Age of Vinyl"
What is a Tax Scam record (Daijiro Kuzuhara)
The essence of cutting with Nippon Columbia engineers
[essay]
Two records that gave me strength (Hiroko Otsuka)
Memories of record digging written by a young American DJ (Greg Nice)
[After Talk]
What is VINYL GOES AROUND in the first place?
Author introduction