---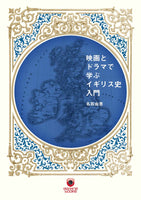 Yoshie Natori (author) "Learning about British history through movies and dramas"
price: 2,200 yen + tax
Release date: 2022/10/26
ISBN:978-4-910511-29-0
From ancient times to Queen Elizabeth, you can enjoy learning about British history that you may know but don't know much about from popular movies and dramas!

"Hollow Crown" is set during the Hundred Years' War and the Wars of the Roses.
"Downton Abbey" depicts the lives of aristocrats and servants in the early 20th century.
Dunkirk, a soldier rescue operation during World War II
"The Crown,'' a dramatization of Queen Elizabeth's life, etc.
Learn about British history based on popular movies and dramas.
This book will make British movies/dramas even more interesting!
table of contents
Introduction
Introduction: Overview of the United Kingdom
Chapter 1 Ancient England
1. Invasion of Rome "The Eagle of the Ninth Legion"
2. Anglo-Saxon and King Arthur "King Arthur"
3. Wessex Dynasty vs. Vikings "The Last Kingdom"
Column A woman who followed a strange fate Part 1 Emma of Normandy
Chapter 2 Medieval England
4. Norman Conquest and Norman Dynasty "1066 The Battle of Middle Earth"
5. Beginning of the Plantagenet Dynasty "Dark Age Roman Cathedral"
Column: A woman with a strange fate, part 2: England's mistress mode
6. Henry II and his sons "The Lion in Winter"
Column: A woman with a strange fate, part 3: Eleanor (Alienor d'Aquitaine)
7. Richard the Lionheart and the Crusades "Robin Hood"
8. King John and Magna Carta "Ironclad"
Column Christianity in England
9. Edward I's Invasion of Scotland "Braveheart"
10. The Hundred Years' War between England and France "Hollow Crown Season 1"
11. The War of the Roses fought between the York and Lancaster families, "Hollow Crown Season 2"
Column: A woman with a strange fate, part 4: Margaret of Anjou
Chapter 3: Early modern England: Tudor, Stuart, and Hanoverian dynasties
12. The beginning of the Tudor dynasty "The White Princess: The Story of Elizabeth of York"
13. Henry VIII and Thomas Cromwell "Wolf Hall"
Column: A woman with a strange fate, part 5: Anne Boleyn
14. Virgin Queen Elizabeth I "Elizabeth"
15. Queen Elizabeth's rival, Mary of Scots, "The Two Queens, Mary and Elizabeth"
Column A woman who followed a strange fate Part 6 Jane Gray
16. British Treasure Shakespeare "Shakespeare's Garden"
17. Stuart Morning Beginning "Gunpowder"
18. The English Civil War and the Republic "Cromwell"
19. Charles II and the Restoration "The Darkness of Love, the Light of Love"
20. The Glorious Revolution and the Birth of Great Britain "Her Majesty's Favorite"
21. Jaycobite Uprising "Outlander"
Column Wales, Scotland, Ireland
Chapter 4 Early modern England The road to the British Empire
22. The Hanoverian Dynasty from Germany "Long live the UK! "
Column Relationship between Britain and America
23. Black History of the British Empire, Slave Trade "Amazing Grace"
24. The British Navy that conquered the seven seas "Master and Commander"
Column A woman who followed a strange fate Part 7 Emma Hamilton
25. East India Company and the Indian Colonies "TABOO Taboo"
26. Queen Victoria and the Industrial Revolution "Queen Victoria Love of the Century"
27. Class disparity in the Victorian era "Oliver! "
28. Electoral system reform and women's suffrage "Make the future a bouquet"
Column: The road to electoral law reform
Chapter 5 Modern Britain: Two World Wars
29. Nobility and class society "Downton Abbey"
30. The Fall of the Nobility "Downton Abbey: A New Era"
31. World War I "1917 The Messenger Who Risked His Life"
32. Peaky Blinders, the period between the two world wars
33. Edward VIII and George VI "The King's Speech"
Column: A woman with a strange fate, part 8: Wallis Simpson
34. The Rise of Hitler and World War II "Dunkirk"
35. Victory in World War II "The Imitation Game/Enigma and the Secret of the Genius Mathematician"
Column Irish independence
Chapter 6 Postwar Britain
36. Britain's proud NHS National Health Service ``Call the Midwife''
37. Queen Elizabeth and the British Royal Family "The Crown"
Column: A woman with a strange fate, part 9: Queen Elizabeth II
index
Postscript