---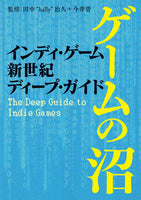 Tanaka "hally" Haruhisa + Shin Imai (supervision) "Indie Game New Century Deep Guide – Game Swamp"
price: 2,200 yen + tax
Release date: 2022/09/28
ISBN:978-4-910511-25-2
It would be a shame not to know this fun!
Introducing unique masterpieces that open up the front lines by theme

Indie games have demonstrated their creative imagination and produced many attractive titles.
From among these, we have carefully selected masterpieces that you must play based on nine themes, and introduce them along with in-depth reviews by up-and-coming authors.
A groundbreaking guidebook that shows how indie games have reflected the real world.
Writing team:
Tanaka "hally" Haruhisa / Susumu Imai
Masaaki Tokuoka/Pear/Mariko Kushihiki/Takeshi Kizu/Shinji Matsunaga/Yuki Kasai/Shohei Fujita
Ginga Kondo / Hikaru Nomura / Yoshiyuki Furushima / Shuka Yamada
Haruhisa "Hally" Tanaka
Game history/game music history researcher. Composer and arranger. He is the main author/supervisor of ``All About Chiptune,'' ``Game Music Disc Guide,'' and ``Indie Game Masterpieces.'' He participated in game music such as ``Blaster Master Zero''. He's a troublesome indie guy who likes retro but hates nostalgia.
Shin Imai
Deputy Editor-in-Chief of IGN JAPAN. Since around 2010, he has been active as a game journalist, publisher, and researcher. He serves as a judge for indie game coverage, interviews, and events around the world.
table of contents
Preface (Haruhisa Tanaka "hally")
Chapter 1 War (Curator: Masaaki Tokuoka)
Chapter 2 Internet and modern society (Curator: Pear)
[Column] Indie games that let you "imagine" real-life society and politics (Kasaiho)
Chapter 3 History (Curator: Masaaki Tokuoka)
Chapter 4 Feminism (Curator: Mariko Kushihiki)
Chapter 5 LGBTQ+ (Curator: Takeshi Kizu)
[Column] The relationship between the DIY spirit and toxic content in indie games (Susumu Imai)
Chapter 6 Music (Curator: "hally" Haruhisa Tanaka)
[Column] The worldview of indie games influenced by Internet music (Iku Kasai)
Chapter 7 Art (Curator: Shinji Matsunaga)
Chapter 8 Animation (Curator: Iku Kasai)
Chapter 9 Literature (Curator: Shohei Fujita)
[Column] Local Identity in Recent Games: Diverse Expressions Rooted in Locality (Masatoshi Tokuoka)
index
Author profile