---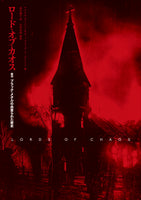 "Lords of Chaos: The Bloody History of Black Metal Reissued"
Author: Michael Moynihan & Diedrick Soderlind
Translation: Yoko Shimada
Commentary: Naoaki Tamura
Base price: 3,500 yen + tax
Release date: 2021/03/24
ISBN:978-4-909483-88-1
Black metal is an underground music that originated in Northern Europe and spread all over the world. In addition to their radical musicality, they caused shock with their devil worship, far-right ideology, and even criminal acts such as church burnings, murder, and terrorism.
``Lords of Chaos'' is a documentary book that carefully describes a series of events that occurred in the early days of black metal, which has now become a major force in extreme metal. This book, which was written based on numerous interviews with the musicians involved, researchers of the occult and right-wing ideas, and even Ant LaVey, the founder of the Church of Satan, and a huge amount of literature, received a great response. It was also called and made into a movie.
To coincide with the film's finally being released to the public in Japan, we are republishing this book, which was previously published as ``The Bloody History of Black Metal'' but has been out of print for a long time.
At the end of the book, there is also an additional commentary by Naoaki Tamura, who is also known as the author of "Primitive Black Metal Guidebook." This book allows you to experience the depth of this scene that could not be fully depicted in the movie.