---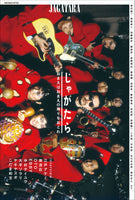 Separate volume ele-king "Jagatara - you dance your dance"
Price: ¥1,800 + tax
Release date: January 29, 2020
ele-king editorial department (ed.)
Jagatara is a legendary band that ran through Japan during the bubble period of the 1980s.
Sharpened Afro-funk punk musicality that never gets old
The words that continue to criticize the system while inspiring the audience are still real.
In 2020, Jagatara will release a new song, breaking the silence of 30 years after Edo Akemi's death.
"Jagatara special issue" to look back now and move forward!
*There are some errors in the content of this document.
"We apologize for any inconvenience caused to our customers and related parties."
Please check here (*http://www.ele-king.net/errata/jagatara.pdf) for corrections.
interview
Minami Ruseki ──Jagatara has never stopped in me
EBBY ──Because I think the "genuine Jagatara" is after 1986.
OTO ──Various jaguatarers are needed in "Nan's Little World"
Nakamura Teyuu ──I was always thinking about how to create a groove feeling.
Yagisuo ──I think all of Akemi's lyrics were romantic.
Kazufumi Kodama ──"I've said this many times, haven't I?"
Souri Ohira ──Akemi said that Jagatara is a movement body
Edo Akemi interview
Summer 1983 by Yuichi Jibiki
January 1989 (unpublished) by Yuichi Jibiki
Spring 1989 by Tsuhiro Ekai

column
Call from Edo Akemi (Shinichi Takahashi)
Great cleaning for 2020 AD (Ayumu Shida)
Thinking about the beginning of the "era of rap" from "Breaking Armageddon" (Nobu Futatsugi)
Dear Mr. Edo Akemi (Toshifumi Jinno)
The Absent Church and the Ecology of Disgrace (Tsuhiro Ekai)
JAGATARA and the 1980s (Ryo Isobe)
After that (Hideo Furukawa)
Dancing in the nowhere night (Takashima Suzu)
Saxophone that calls a friend Masami Shinoda (Gen Hirai)
Contact with the underground (Masato Matsumura)
The meaning of Jagatara in Japanese pop history (Tsutomu Noda)
Jagatara and Nursing Care (Kodamata Takehiro)

Living Music and Words (Yasushi Kurihara × Shin Futaki)
Norihiro Kato "Jagatara" (reprint)
Dsics and Books 1981 - 2020
Jagatara chronology
Photo: Kenji Matsubara
http://www.ele-king.net/books/007360/