---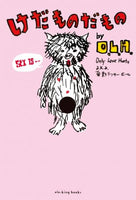 "Who will buy it! Well, I like it."
Yo Hitoto (singer)
"If you don't buy it quickly, it will be banned!"
Hajime Anzai (Sorami Mist)
"'We don't even need to sing about this,' said the man, pushing the play button with his finger."
Kenichi Yasuda (rock manga)
The solitary funk band O.L.H., which still adheres to the spirit of "mono no aware" that has long been lost in the Japanese music world, and continues to go back in time in an increasingly radical way, has finally released its first book. The O.L.H. duo (sinner-yang & aCKy) will "completely and finally" solve all the "underneath" worries that have been excluded from terrestrial broadcasting.
The unique sense of language that made Takaaki Yoshimoto, a giant of knowledge who no longer exists, exclaim, "It's too good to be true," and the gay intelligence that shines brilliantly in the modern era of anti-"shame" sexism, are equally popular among people, regardless of their literacy level. It strikes the conscience of someone!
■King Terry, also known as Teruhiko Yumura, covers the cover, and Takashi Nemoto provides numerous illustrations.