---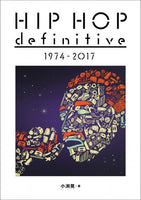 Long-awaited by all music fans,
The only book that covers major albums from all eras of hip-hop in one book!
From 1979 Sugarhill Gang's "Rapper's Delight" or Afrika Bambater's "Death Mix" ──
The birth of hip-hop, the constant birth of street music from the Bronx, Queens, Brooklyn, and Long Island, and the rise of Tommy Boy, Def Jam, and Cold Chillin to the emergence of the Hip-Hop Nation. From conscious to gangsta. From hardcore to G-funk. While the South/Midwest was on the rise, New York's thug rap was also on fire. On the other hand, while pop music established its position, the indie scene rose up, and while Wessai's funk came into the spotlight, neo-school emerged.
In this one volume, you can learn about the major works of the ever-changing and expanding US hip-hop of all eras!
The author is Akira Obuchi, former editor-in-chief of "BMR"!
The long-awaited "Hip-Hop Definitive" by all music fans is finally published!
table of contents
Chapter 1 1974~ Birth of hip hop
Chapter 2 1982~ Electro boom
Chapter 3 1984 ~ Return to the street ~ Emergence of the 2nd generation
Chapter 4 1986~ Birth of Hip Hop Nation
Chapter 5 1988 ~ Conscious ~ Message Rap
Chapter 6 1988 ~ Gangsta ~ The rise of player rap
Chapter 7 1990~ From New School to Hardcore
Chapter 8 1992~ The fury of G-funk
Chapter 9 1992~ Rise of the South/Midwest scene
Chapter 10 1994 ~ Lyricist ~ Thug/Mafioso Rap
Chapter 11 1994~Resurrection of pop style~pop music throughout the United States
Chapter 12 1996~ Conscious School ~ Rise of the Indie Scene
Chapter 13 1999-Wessay Funk 2000
Chapter 14 2000- South & Midwest Era
Chapter 15 2006~ Redefinition of "cool"
Chapter 16 2011~ New era of hip hop