---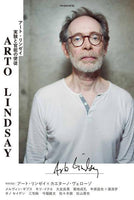 Art Lindsay is bottomless!
The sensuality of Brazilian music, the noise of no wave, and the splendid attempt at avant-pop
── A must-read book that traces the great picture!
It will be his first solo album in 13 years since 2004's Salt.
Art Lindsay presents his new album Cuidado Madame.
He has a close relationship with Japanese musicians such as Ryuichi Sakamoto, Seigen Ono, and Jun Miyake.
Able to connect sensual Brazilian music with post-punk NY noise,
A unique artist. That's Art Lindsay.
"Separate volume ele-king" No. 5 is about art from childhood to the present.
Starting with a long interview in which he spoke thoroughly,
Art and literature that form the core of that expression,
Detailing the samba project in Rio, where the current activity is based,
This is an attempt to provide an overview of Art Lindsay, which is unique not only in Japan but also in the world.
A special conversation with Caetano Veloso is also a must-read!
2017 is the year of re-evaluation of Art Lindsay.
table of contents
[LONG INTERVIEW]
●Art Lindsay talks about his new work ``Careful Madam'' and its history
Part 1: From the prehistory of New York to the 1990s (Masato Matsumura/Ryu Takahashi)
Part 2: Solo period (Hitoshi Nakahara)
Part 3: Additional remarks and fragments or explanations (Masato Matsumura/Ryu Takahashi)
[CROSS REVIEW]
●"Careful Madam" Cross Review (Kazuki Takami, Hidezumi Yoshimoto, Hiroki Matsubayashi)
[INTERVIEW]
●Melvin Gibbs "Sound Interventionist's Great Staff"
●Ikue Mori: "I have always made music that is very close to me."
●Naruyoshi Kikuchi "Joyful yet elegant"
●Ryuta Imafuku "The horizon of America spreading from Brazil"
●Seigen Ono "When I decided to make music that no one had ever heard before
The first time we collaborated was on art."
●Jun Miyake: "His charm is that he embraces his own contradictions and does not hide them."
[COMMENT]
●Yoshihide Otomo: Talking about Art Lindsay's guitar
●Drawing, collage, text: Etsuko Yakushimaru
[DIALOGUE]
●Masaya Nakahara x Manabu Yuasa "No Wave Dandan"
[CRITIQUE, COLUMN, ESSAY]
● Minoru Hatanaka "Idiosyncrasies in Early Art Lindsay"
●Yohei Yoshida "Fake jazz then became real jazz"
●Atsushi Sasaki "Can you sing or not? Can you play or not?
"It doesn't matter either way."
●Masashi Yoshida "Initial AL Rifts"
●Akira Onda "Modulation of the City"
●Kepel Kimura "What makes art art"
Yusuke Erikawa "Mixing of Brazil"
●Kepel Kimura "Disc Guide: Brazilian Music from His Art Lindsay"
●Shinya Matsuyama "Surface Sensuality"
[SPECIAL]
●Art Lindsay "Tropicalistas"
●Special talk:
Art Lindsay x Caetano Veloso (Masato Matsumura/Nancy Risa Miyagasako)
[DISCOGRAPHY]
●Art Lindsay Selected Disc Guide
Release date: 2017/01/07
Product number: ISBN-978-4907276737
List price: \1,850 + tax
Label: ele-king books
*Page 144