---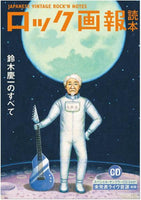 Keiichi Suzuki's music is the "belly button" of Takeshi Kitano's films.
--Takeshi Kitano
★9 unreleased songs by Keiichi Suzuki, 54 minutes! Comes with CD

Keiichi Suzuki announced in December 2011 that Moon Riders would be suspending their activities.
Since then, he has been active as a musician, working on Takeshi Kitano's movie "Outrage Beyond" and Yukio Ninagawa's stage music.
Band, solo, unit, production (Tomoyo Harada and others),
Keiichi Suzuki, who covers a wide range of musical activities such as film music ("Outrage", "Zatoichi", "GeGeGe no Nyobo", etc.), theater accompaniment (Yukio Ninagawa, etc.), commercial music, etc., and has multifaceted charm. Close to the essence of!
Chapters organized by theme, from Moon Riders to Honey Pie, Controversial Spark, No Lie-sense, THE BEATNIKS, solo works, film music, game music, produced works, etc.
It also includes interviews with related musicians and past reviews, including last year's much-talked-about work ``Records and Memories.'' It is a chronicle that archives all of Keiichi Suzuki's work, including a wealth of visual elements treasured by the office.
Furthermore, the cover was created by his old friend, illustrator Nobuhiko Yabuki.
■ Photos and Memories
■Keiichi Suzuki interview
■Keiichi Suzuki as an active musician
■Honey pie and Keiichi Suzuki
■Moon Riders and Keiichi Suzuki
■ Beatniks and Keiichi Suzuki
■The genealogy of a pathetic man seen through Keiichi Suzuki's lyrics
■Activity chronology (14 pages)
■Interview: Tomohiko Gondou / Keiichi Sogabe / Yukihiro Takahashi / Hirofumi Suzuki / Hirokazu Tanaka / Masayuki Mori / Eiichi Fujimoto / KERA / konore
■And a 60-page Keiichi Suzuki-related disc guide!
■Comes with a CD containing many unreleased sound sources
Rock Pictorial Reader: Everything about Keiichi Suzuki
Shinichi Ogawa (Supervisor)
Release date: 2017/3/17
Price: 2,750 yen + tax
Product number: ISBN:978-4-907276-70-6