---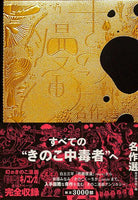 "To all mushroom addicts"
The front of the cover is decorated with gold leaf,
Limited to 3000 copies of the first edition, a super luxurious special bound book!
Includes many "mushroom motif" works drawn by cartoonists such as Sanpei Shirato, Yoshiharu Tsuge, Leiji Matsumoto, Marina Shirakawa and others!
An unlikely "mushroom manga" anthology dedicated to mushroom enthusiasts and mushroom fans! !

■Recorded works (in order of recording)
Yoshiharu Tsuge "Hatsutakegari" ("Screw type unique masterpiece selection 1")
Kuniko Nagasaki "Kyusaku Yumeno Mushroom Conference" (Ebony and Irony Short Manga Collection)
Aki Aoi "Light Path Map on Your Toes Part 1" ("Light Path Map on Your Toes")
Ayuko Akiyama "Mountain delicacies" ("Mushikera-sama")
Yasuko Sakata "Mushroom Better Life" ("Peter and Pistachio")
Leiji Matsumoto "Delusional Night Train" (Otoko Oidon Vol. 1)
Minami Shinkuni "Onifusube" ("Kinoko Kuchika 1")
Mimiyo Tomozawa "Mushroom Trip" ("Mushroom Trip")
Kyu Hayashida "Mountains of mushrooms are full of food" ("Dorohedoro" Volume 3)
Hideo Azuma "Mushroom Room"
Kazuichi Hanawa "Mushroom Spirit" ("Suzakumon")
Makoto Miwo "Mushroom Mushroom" ("Mushroom Mushroom")
Moto Hagio "Come to my basement" ("Bradbury SF Masterpiece Selection: U is a Spaceship")
Kenya Oba "6:45" ("The Postman and the Land of Night")
Kei Murayama "Mushroom Human Marriage #1" ("Mushroom Human Marriage")
Sanpei Shirato "Episode 2: Cordyceps sinensis" ("??????")
Marina Shirakawa "Invasion Disc Kinokonga" ("Invasion Disc Kinokonga")
Hiroshi Masumura "Cordyceps sinensis" ("Aurora Broadcasting Station (Part 2)")
Kotaro Iizawa (ed.)
Release date: 2016/6/10