---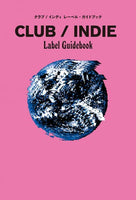 listen to labels, listen to labels
A revolutionary guidebook for club labels in the 21st century!
Acid and low house, chillwave and vaporwave.
From Ambient & Drone,
From techno, house, to long-established indie rock,
of the ultra-fragmented modern scene,
The most important book of all time - a groundbreaking guidebook with 930 photos from 23 countries and 217 labels!
For those who wish to send demo tapes,
The label's address and contact information are also included to the extent that it is known.
It can also be used like a phone book!
We ask DJ Nobu, Yosuke Yukimatsu, Mike Sunda and other DJs about their "recommended labels"
Columns such as ``Why are indie labels concentrated in Berlin'' by Yuko Asanuma are also included.
Supervision: Itaru Mita / Editing: Masato Matsumura
Written by: Yuko Asanuma, Naoki Iijima, Yusaku Shigeyasu, Hayato Takahashi, Yusuke Tatewaki, Denshinooto, Tsutomu Noda, Yuho Hashimoto