---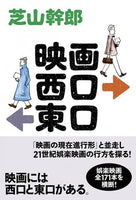 From "The Lord of the Rings" (2001) to "Mad Max: Fury Road" (2015). The definitive edition of a large volume movie book introducing 171 entertainment movies from 15 years!
A book introducing the latest movies by movie critic Mikio Shibayama, who watches 250 movies a year, including new and old movies. Entertainment movies were selected from approximately 13,000 movies released in the 21st century. A total of 171 movies are introduced from a unique perspective (West exit movies: Interesting stories and movements / East exit movies: Interesting signs and smells). At the end of the book, a young film critic's
Contains a conversation with Naoto Mori on ``The Future of Entertainment Movies in the 21st Century''. It summarizes the history from the beginning of the 21st century to the present and inspires the future of entertainment films.
Release date: 2015/12/25