---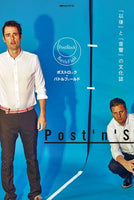 When did the term "post-rock" come into existence, and what were its requirements?
A new definition of post-rock for the 21st year, dating back to Battles' new album.
The musical term "post-rock" first appeared in 1994 in the UK music magazine "Mojo" by journalist Simon Reynolds. However, due to various theories, the context has changed in various ways up to the present day.
If it were to be likened to the music of Tortoise, which is regarded as the representative of that, and define it as music that "compromises multiple musical elements" by "technology" and "presents a counterpoint to existing rock values". , and behind it, there must be a glimpse of the magnetic field of the 90's, such as the rise of sampling culture and the segmentation of music that followed, as well as the development of recording technology.
In tune with the 90's revival wave, "post-rock" is now hot again.
The possibility of the "three requirements for post-rock" hidden there.
Consider its currentness and history from the new work of Battles, who presented alternative music as post-post rock in the 2000s!
In addition to post-rock, another big trend in 90's music, ``Onkyo-ha'', is also taken up, and the new ``Betsu-Ere'' will reveal the present from the adhesion between the two.
The theme is definition and history.
Contents
Interview Battles A triple interview covering the front and back of his third work in four years, "La Di Da Di"
Dave Konopka/Ian Williams/John Stanier Masato Matsumura
Consideration 1 Hardcore, Kinshina Tamajo Masato Matsumura
Thoughts 2: The age of underground reason reached its peak with "La Di Da Di" by Takashi Mita
Keynote Interview: Atsushi Kaneko asks Atsushi Sasaki about the new 3 requirements for post-rock!? Masato Matsumura
Have you ever surfed? Post-rock freedom and pleasure Tsutomu Noda
Rerecording 1 Post Rockin' On Itaru Mita
Rerecording 2 Bristol post-rock Naoki Iijima
Consideration 3 Red Crayola-like You Can Connect to Anything Manabu Yuasa
Consideration 4 Sound technology and the body Thank you, PT Motoki Yamaguchi
Thoughts 5 Post-Headbang Music The Changing Same Ryo Kuramoto
PostRock Early Works Early Post-Rock Impulse Artist File
Pele/Dylan Group/Mice Parade/The Album Leaf Takeshi Kizu/Naohiro Kato/Yuho Hashimoto
Exploring the origins 1 Jim O'Rourke talks about Steve Albini Masato Matsumura
My Favorite Post'n'Sound My Three Pieces Kensuke Ide / Toshiaki Sudo
Interview Sangatsu post-rock and 18 years of Sangatsu Masato Matsumura / Yasuhiro Ohara
Interview Spangle Call Lily Line (Ken Fujieda) Barbora
Disc guide Utamono post-rock 5 discs Barubora
Interview Nisennenmondai Masato Matsumura/Ryosuke Kikuchi
Disc guide 15 pieces of Krautrock that post-rock fans want to hear Koyanagi Kaworu
Discussion Thinking about photographer = Sam Prekop Tamaki Sugihara
Disc guide Millennium 10 pieces Masato Matsumura
Disc Guide 20 pieces of Post-Post Takeshi Kizu/Ryo Kuramoto/Yuho Hashimoto
Exploring the Source 2 Yuichi Kishino's Lecture in the 90's Masato Matsumura
Interview Taiyondai Braxton Masato Matsumura / Kuniyoshi Taiko
Discussion Numerator and Denominator Theory of "Sound" Yoshio Otani
Consideration 6 The night before or after the sound Masato Matsumura
Three-way discussion goat x Kukan Gendai Futatabi Koshiro Hino + Junya Noguchi + Hideaki Yamada Masato Matsumura
Discussion From Ryoji Ikeda in the 90's to Minoru Hatanaka
Discussion Technology (and its Errors) and Electronic Music Yasunao Tone and Oval's Skip Koji Kawasaki
Essay Rediscovery of Acoustic School Nijikamataro
My Favorite Post'n'Sound My Three Pieces Shuta Hasunuma
Disc guide Acoustic and IDM, 15 discs in between Denshinoto
Bessatsu ele-king Post-Rock Battlefield A Culture Book for Post'n'Sound
Masato Matsumura (ed.)
Release date: 2015/9/15