---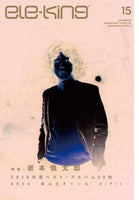 Special Feature 1: Shintaro Sakamoto and Poets of Japanese Music
A special feature on Shintaro Sakamoto, who has gained further acclaim for his sophisticated sound and advanced verbal expressions with radical meanings in ``Let's Dance Raw''. A 25,000-word interview in which he frankly talks about his upbringing, his elementary school days when he kept changing schools, his high school days when he was passionate about bands, the dark ages, the swinging imperial era, his views on music, politics, and his own history. Kenta Hagiwara, Masakazu Kitanaka, and poet Yu Nagai also contributed. In addition, there are plenty of essays and interviews on young Japanese rockers, including Ogre You Asshole and Mori wa Akiru.
Feature 2: 30 best albums of the year selected by Eleking in 2014
The best 30 pieces selected by the editorial department after repeated severe discussions. What was the music scene like in 2014? Which one is truly great? What does Aphex Twin's hit and Flying Lotus' new album mean? We look back on the past year, reflecting on various points of discussion.
★ For the visual page, works are provided by Tomoo Gokita, who is now a "person of the hour"!
★Also, a new series by Wataru Sasaki (Crypton) has started!
Cover photo: Masayuki Shioda
Writer/serialist: Kenta Hagiwara, Masakazu Kitanaka, Yu Nagai, Natsune Kitazawa, Shino Okamura, Mikako Brady, So Otsuki, Wataru Sasaki, Ryo Isobe, Tsuyoshi Kizu, Ryo Kuramoto, Skate Thing, and others.
release:2014/12/17
http://www.ele-king.net/books/004706/
http://p-vine.jp/music/isbn-978-4-907276-27-0