---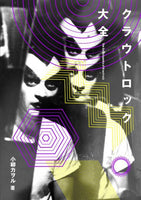 A mystery in rock history, a fierce experiment,
A large catalog of Krautrock and Neue Deutsche Welle is finally published!
Krautrock has become increasingly influential since the turn of the century - German rock from the 1970s that had a tremendous influence on everything from Radiohead to Detroit techno. It is still extremely popular, and reissues are still constantly being released, and it continues to be listened to by a wide range of people, from the progressive rock generation to the younger generation represented by Ogre You Asshole. Neue Deutsche Welle, which started in the late 1970s, still enjoys a cult following, just as their reunion show at the Palais Schamburg was a huge success.
``Krautrock Encyclopedia'' introduces over 700 major works from the dawn of Krautrock in the late 1960s to Neue Deutsche Welle in the early 80s. A long-awaited book that reinterprets post-punk/techno from a perspective that has passed through it!
Release date: 2014/7/23