---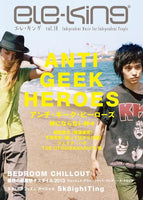 ■The current state of young indie heroes
ANTI GEEK HEROES
It doesn't end underground.
u-25 new generation special feature!
◎Interview
Tetsumaru Fukuda (Rapid Tokyo)
Mitsufumi Shimotsu (Dancing Country)
jake bug
THE OTOGIBANASHI'S
Mitsume, Fla$hBackS, Mahitu the People, Dragon, etc.
Tetsumaru Fukuda + Mitsufumi Shimotsu go to the sea (lots of new photos!)
■Bedroom Chill Out
Festivals are not the only stage of summer! A special feature on the most relaxing chill-out music that will guide you to the strongest "room listening".
◎Interview
Washed Out et al.
◎Room listening disc guide 40!
■New series starts!
Popular in web ele-king, Mikako Brady, the opinion leader of UK culture & Junko Kaneda, the strongest assassin of BL criticism, appears!
■Sk8ightThing
Interview & work released!  First 16 pages!
■ Kazushi Hosaka x Manabu Yuasa "Music Talk Part 1"
The 2nd renewal of other great enhancements!
☆Comes with an e-book version reading coupon!
Are you throwing away your accumulated ele-king?
A coupon that can be viewed at any time as an e-book that can be thrown away is attached!
ele-king recommends smart storage!
Release date: 2013/7/12
http://www.ele-king.net/books/004701/
http://p-vine.jp/music/isbn-978-4-907276-02-7