---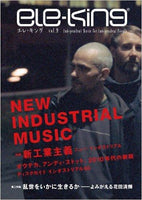 【Indie Music For Indie People】
《Special Feature》New Industrial
[Small feature] How to live in turbulent times - Revival of Seiki Hanada
Over the past six months, the walls of record stores have been taken over by records with the tag "industrial/minimal." The main feature of the redesigned issue is "New Industrialism!" Including a super long interview with Autecha who just released a new album, Andy Stott who recently finished his performance in Japan, and from what I've heard, I thought he was a bad-looking B-boy, but in reality he's incredibly beautiful. There is also an interview with Jam City!
There is also a guide to more than 50 industrial discs, and to my surprise, this overlaps perfectly with the selections from DJ Nobu's recently released mix CD! So if you read this while listening to Nobu's mix CD, you'll be able to experience a thrilling trip.
And the small feature is ``How to live in turbulent times - Revival of Seiki Hanada''. We will explore the charm of Kiyoteru Hanada, a genius who left behind an unparalleled career and writings as a critic and thinker, and who lived through the era's ``period of change'' with a strong sense of humor!
In addition, it's full of interesting articles, such as feminine life fortune telling and interviews with the increasingly popular cero!
Release date: 2013/4/5
http://www.ele-king.net/books/004700/
http://p-vine.jp/music/isbn-978-4-907276-00-3