---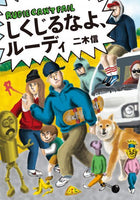 "If you want to know Japanese hip-hop, read this! 105% RAP!"
The first review collection of a hip and hop Japanese idiot who follows the country's rap scene since the '00s and smiles toward the future is finally here! Niki has been writing manuscripts since he was 20 years old. A record of the music that Shin has seen, listened to, and met in the last 10 years.
In addition to the best selection of past manuscripts, more than 10 valuable interview articles such as Slack and Seeda, Killer Bong and Dengaryu, and newly written manuscripts are also included!  
Read this if you want to know Japanese hip-hop! !
Includes 60 important Japanese hip-hop works from the 2000s onwards, with a newly written review.
■ Interview recording
s.l.a.c.k. / SEEDA / Killer-bong / Dengaryu / Tamaki ROY / Chinza Dopeness / haiiro de rossi / MIC JACK PRODUCTION / SHINGO☆NISHINARI / MSC / DERELLA / PRIMAL / YAMAAN / DUTY FREE SHOPP.×Kakumakushaka
Release date: January 18, 2013