---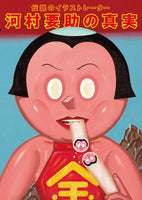 One day, Yosuke Kawamura suddenly disappeared from our sights, leaving a huge mark on the Japanese illustration world.
From the 1970s to the 1990s, when illustration blossomed as a new culture, "Yosuke" continued to present many masterpieces and excellent works in Tokyo.
This book includes the covers of music magazines such as the newly discovered teenage "painting of a fighter plane", the Nikka "Black, 50" series, "Music Magazine" and "Bad News", as well as the cover of the "legendary illustrator". Introducing all leopards on 300 pages/639 items.
Koichi Sato was in charge of the selection of works and overall design.
This is a must-read book for all music fans.
■This time, valuable illustrations from his childhood are also included.
■Includes ``Kawamura Yosuke Theory,'' which brilliantly analyzes the charm of the late Ikko Tanaka.
■Also, a conversation between Koichi Sato, Taku Sato, and Tadashi Fujita at an exhibition held at Ginza Recruit in 2011.
■Designed by his colleague and world-famous Koichi Sato.

Release date: 2012/7/18