---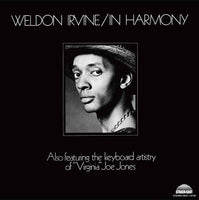 WELDON IRVINE『In Harmony』CD
PCD-94172
Format: CD
Price: 2,400 yen + tax
Release date: 2023/10/04
★Limited First Edition
★Paper Jacket
★The latest digital remastering
This is the only work he left on Strata-East, a renowned spiritual jazz label, in 1974! 
This high-purity jazz album with spirituality and musicality, which is the opposite of the cosmic jazz funk "Cosmic Vortex" released on RCA in the same year, has been revived in the latest version!
This is the fourth album by Weldon Irvine, released in 1974 on the prestigious spiritual jazz label Strata-East! The stoic jazz sound of course, but the jet-black jacket with a black-and-white portrait and the name of his mentor, Virginia Joe Jones, on the cover, gives a sense of spirituality and musical purity. The album is a piece of music with spirituality and musicality! The killer tunes that continue from the opening track, such as the jazz funk "Fat Mouth" (M1) with its boogie bass line and the groovy jazz "Turkish Bath" (M2) with its pleasant interplay of percussive beat and the emotional melody of the electric piano, are also excellent, The album also features piano featured tracks such as the introspective piano solo "Pleasure, Pain & Me" (M3) and Michel egrand's gem of a ballad "What Are You Doing For The Rest Of Your Life" (M7). Latest remastering in 2023!
---
■Track list
1. Fat Mouth
2. Turkish Bath
3. Pleasure, Pain & Me
4. Down Home
5. Marjorie Moon
6. Sweet Georgia Brown
7. What Are You Doing For The Rest Of Your Life
8. Gemini Mood