---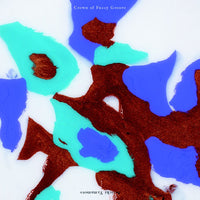 SEIICHI YAMAMOTO『Crown of Fuzzy Groove』
PLP-7111/2
Format: 2 x LP
Price: 4,500 yen + tax
Release date:2021/03/31
★Keep It Rollin' 45th×45rpm!!
★ First limited production
Boredoms, Omoide Hatoba, Compass, ROVO ... Seiichi Yamamoto, a genius who is active in many bands, calls himself a "true first solo album" in 2002.
An emotional and imaginative soundscape with many rhythms and countless melodies rippling, swaying, popping, and blending. Blissful utopian music!
The true value of Seiichi Yamamoto! !! Luxuriously in a 2-disc set.
The long-awaited analog LP was remastered by Peace Music, Soichiro Nakamura. Loud sound at 45 rpm on each side.
---
■Track list
SIDE B:
 1.Polyphonic Shadow
 2.Match Box
SIDE C:
 1.Whity
 2.Communike
 3.Terminal Mind
SIDE D:
 1.Missing Ring
 2.Mantral