---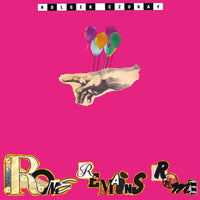 Holger Czukay "Rome Remains Rome"
PCD-24776
Format: CD
List price: 2,400 yen + tax
Release date: 2018/10/10
★ Holger Czukay Retrospective
★ 2018 remaster
★ First limited production paper jacket specifications
The album opener "Hey Baba Reebop", with its comfortable synth riffs and flying guitar, is dedicated to Rebop Kwaku Bar, a member of the late Kang who died in 1983. The idea itself is genius or crushed, such as "Blessed Easter" which collages Gregorian chant and samples the story of Pope John Paul II at that time, and "Sudetenland" which puts Bulgarian voice on a funky beat. I'm out. Two songs, the new wavey samba "Hit Hit Flop Flop" with a humorous child's voice and the Latin-style "Perfect World" with a sample of James Brown's voice, have become popular in recent years. This is the first time that the original CD has been made.
---
---
■ Track list
1. Hey Baba Reebop
2. Blessed Easter
3. Sudetenland
4. Hit Hit Flop Flop
5. Perfect World
6. Music In The Air