---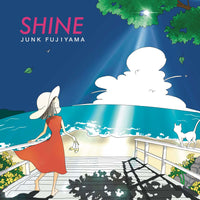 JUNK FUJIYAMA『SHINE』LP
PLP-7873
Format: LP
Price: ¥ 3,980 + tax
Release date:2022/11/16
★Supervision: Toshikazu Kanazawa (Light Mellow)
★ First limited edition
★ With obi
City-pop stalwarts Junk Fujiyama complete new album 'SHINE' in full summer mode!

「The first new album in a year and a half from the current city-pop scene leader. In addition to familiar tracks such as the previously released 'Trajectory of Love' and the convenience store commercial 'Golden Time', the album is packed with classic tracks such as the pop groove 'Sunrise', which is reminiscent of the hit 'Ano Sora no Mukou Gawa e'. This is already a masterpiece in Junk's history!」
――Toshikazu Kanazawa

The release of their original studio album 'SHINE', following the release of 'Happiness' in July 2021, is now confirmed. It is an ongoing city pop album full of refreshing melodies & sounds and in full-blown summer mode. Continuing from the previous album, creator: Kamiya Ji is in charge of arranging, track-making and production. The sound has evolved by skillfully incorporating the essence of pop, AOR, soul, rock and other genres, and has been further enhanced by Junk's emotional vocals.
Included in the album are "GOLDEN TIME", a pop number that became a hot topic in a FamilyMart commercial, "Trajectory of Love", a killer tune that will colour the summer, "Love is a wonder", a groove-filled ballad about love at the end of summer by Yukako Niizuma, who provided the song "Butterfly" in the previous album, and 10 other songs. The ballad "Our Summer Days" by Yukako Niizuma, who provided the song "Butterfly" for the previous album, depicts love at the end of summer, and the other 10 tracks make up this summer album full of city pop.
The jacket illustration is by 'hikari&-', following on from the previous work, and is full of light (SHINE), capturing the summer landscape.
---
■Track list
SIDE A:
1. 愛の軌跡-Trajectory of Love-
2. GOLDEN TIME
3. 僕らのサマー・デイズ-Our Summer Days-
4. Mystic
5. Walk about
SIDE B:
1. Sunrise
2. Precious Moments
3. ミッドナイト・パレード
4. SHINE
5. Love is a wonder