---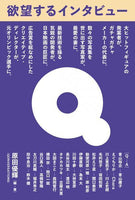 "Unexpected combination" x "carefree interview"
A collection of unlikely interviews that are both personal and universal.
Contains interviews with 30 people in 15 groups!
This is an interview collection that includes new interviews and dialogues by re-editing the new sensation interview website "QONVESATIONS".
The interviewers that appear are people who are usually interviewed, such as artists, photographers, developers, manga artists, and art directors.
I asked them, "Now, please interview someone from a different industry that you would like to hear about." Masu.
Release date: 2015/10/28