---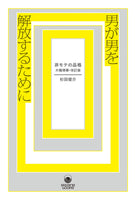 "A Man's Guide to Liberating Himself: A Non-Motivated Man's Dignity, Greatly Enlarged and Revised Edition," Shunsuke Sugita (author).
Price: 1,800 yen + tax
Release date: 2023/9/19
ISBN:978-4-910511-54-2
The "Weak Men" Theory is Reexamined from a Response to Tetsuya Yamagami.
A classic book by a leading expert on "weak men" is reprinted with an all-new chapter!
The book "A Non-Motivated Man's Dignity" (Shueisha Shinsho), published in 2016, attracted a great deal of attention for its sincere consideration of the difficulties of life for modern men, including romantic/sexual experiences, income disparity, hard work, low social status, and enforced "masculinity".
This famous book has been reprinted with a substantial 90,000-character addition to the original 100,000 characters!
This is a compilation of rethinking the theory of "weak men," starting from the response to the suspect Tetsuya Yamagami!
Table of Contents
Foreword to the Enlarged and Revised Edition
Chapter 1 What Does Weakness Mean to Men?
Weakness: The Inability to Admit One's Own Weakness / Men's Self-Hatred: Feminists' Blind Spot / Are Men More Likely to Commit Suicide than Women? / Men have not talked about their sexuality / Sorry for giving birth to a "boy" / Rebooting men's lib / The aporia of being a man
Chapter 2: On Male Lusantimanism: The Dignity of the Unmotivated?
Employment, Labor Issues and Gender Structure / Men's Identity Crisis / Majority Men's Twisted Perception of Victimhood / Men's Problems of Irregular Employment / The "False Conflict" of Regular vs. What does it mean to be "unloved"? / The three types of nonmotivation / Sexual approval and addiction / Men's troublesome problem of lusantiman / Nietzsche and lusantiman / What is painful is painful. What is lonely is lonely. / Further Exploring Rusantiman / The Danger of Men's Self-Criticism (Personal Narrative) / Toward Open Questioning / The Great Misunderstanding of "Herbivorous Men" / The Desire for Approval, Self-Affirmation, and Self-Respect /
Appendix 1: To a Kind and Happy You, Even if You Are Not Accepted or Loved
Chapter 3 What Care Means to Men: Queer, Disability, and Natural Desire
Care workers need care / "Dependence" is not an exception / The wonder of parenting / "Let's work together" / The experience of caring for a young man with ALS / The socialization of care / "Seeing" the everyday landscape / The fear of facing inner weakness / Looking at the distorted desire for control / The experience of caring for a child Which is the Weakest / A Young Man with Autism and His Mother / What We Have Learned from the History of Support for People with Disabilities / Living, Playing, and Working / Becoming a Mere "Male Parent" / Relearning Our Desires: Brain and Nerves / The Experience of Being Cuddled to Sleep / The Layered Nature of the Birth Act / Who is a "Vegetable Man"?
Supplementary Discussion 2: From the Weak and the Small
Shueisha Shinsho Edition, Afterword
Chapter 4: Can Weak Men Love Themselves?
Reconsidering "Weak Men" / Global Flood of Incels / Rebellion? / The Awakening Incels? / What self-love means for incels / Remnants / Vulnerable men as remnants / Radical self-love as politics of desire / Nihilism as a "giant bullshit / Incel-light / Incel-left / Incel-radical / The problem of intra-male disparity / On the post-masculine dilemma Toward a Rib of Radical Incompetence / Men Can Love Themselves, Too!
Chapter 5: Can Men Be Incompetent - For the Mizuko Dialectic
Recognition / Redistribution / Politics / The dilemma between racism and ableism / The intersectional class politics of contemporary precariat / Post-capitalist desire / Facing men's lib melancholy / Guillermo del Toro's "monsters" / The "muddiness" of men / Meritocracy and male incompetence Hypermeritocracy / Men's Dialectic of Incompetence / The Struggle of the Incompetent: "Hinomaru Sumo" / What is the Mizuko Dialectic?
Enlarged and Revised Edition, Afterword
https://www.ele-king.net/books/009507/