---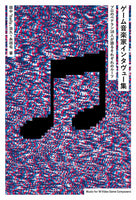 "Game Musician Interview Collection: 18 Professional Veterans Talk About Their Roots" Haruhisa "Hally" Tanaka + Ton Itoda (authors)
Price: 2,200 yen + tax
Release date: 2023/03/29
ISBN:978-4-910511-43-6
YMO, progressive rock, techno, new wave...
The unknown background of game music, revealed for the first time
Japanese video game music is said to be "the most original and globally influential music produced in this country."
What kind of background did it come from?
What did the composers who created numerous masterpieces and famous songs grow up listening to?
The source of game music emerges by delving into history with professional composers as listeners.
Hirokazu Tanaka/Hiro/Yuzo Koshiro/Shinji Hosoe/Hisayoshi Ogura Music Studio/TAMAYO/Yoko Shimomura/Manabu Namiki/Hiroki Kikuta/Akira Yamaoka/You Oyama/Soyo Oka/Hiroyuki Kawada/Keiichi Sugiyama/Yuji Takenouchi (TECHNOuchi) / Norio Nakagata / Michiru Yamane / Kunitaka Watanabe
46 size soft cover / 304 pages
table of contents
Preface: An ensemble drama called game music (Haruhisa "Hally" Tanaka)
Part 1
Hiro x Shinji Hosoe The true nature of the "fusion feeling" in game music
Norio Nakagata x Yo Oyama x Kunitaka Watanabe Progressive rock is an incurable disease -- its charm passed down through generations
Manabu Namiki x Yuji Takenouchi (TECHNouchi) The days when I was hopelessly fascinated by techno in the 90s
Akira Yamaoka x Keiichi Sugiyama New Wave, it's fleeting, it's something that surprises people
Yoko Shimomura x Michiru Yamane - Sensitivity that comes from growing up in classical music - From setbacks in performing to becoming a composer
Part 2
Hirokazu Tanaka's experience in a reggae band was useful in creating the music for "Pokémon"
Hisayoshi Ogura Music Studio "I wanted to be Kyohei Tsutsumi"
Hiroyuki Kawada: Rock, lounge, and black music are the main pillars
TAMAYO: Everything related to YMO, collaborations, performance participation, etc.
Soyo Okamoto's original experience is classical, from the youth of YMO and Queen to acid jazz and trip hop
Yuzo Koshiro, addicted to YMO and Iron Maiden, discovers new jack swing and hip house in LA
Hiroki Kikuta A wide and shallow experience of the 70's in its entirety
Postscript (Ton Itoda)