---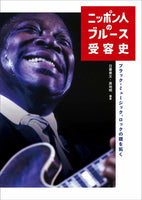 "History of Japanese people's reception of the blues" Yasufumi Higurashi + Akira Kochi (editors)
Price: 4,200 yen + tax
Release date: 2023/03/29
ISBN:978-4-910511-33-7
Everyone became passionate about the blues.
From the 1960s to the 1970s, when America was still far away and people had to spend time and effort just to get their hands on a single record, it suddenly gained attention among Japanese music fans as rock fever grew. blues.
How have those obsessed with the blues faced this unfathomable music, with little information yet?
With magazine articles from the time, album reviews, reports on concerts in Japan, on-site interviews, blues performed by Japanese people, a wealth of illustrations including unreleased photos, and readable text, this book explains how the blues was received in Japan. The first ever attempt to convey!
Contributors: Mitsuyoshi Azuma, Keishi Suzuki, Takashi Nagai Hotoke, and others
B5 size soft cover / 368 pages / many color pages
Contents
Intro The blues came all the way
chapter I 1960's
chapter II 1970-73
chapter III 1974-76
chapter IV 1977-80
chapter V Blues It's not like that, it's not like this
chapter VI Shock of Blues Live
chapter VII Dawn of the Japanese Blues
chapter VIII The blues creeps into the room
chapter IX Blues just now
Outro Final Moanin'─Acknowledgment