---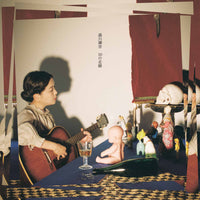 SHIONE YUKAWA『10 No Ashioto』LP
PLP-7939
Format: LP
Price: ¥ 3,980 + tax
Release date:2023/03/22
★"★First album in seven years
★Limited Edition vinyl
★With Obi-Strip"
The first album in over seven years from Japanese singer-songwriter Shione Yukawa!

Entirely self-produced, 10 no ashioto marks a triumphant return for Japanese singer-songwriter Shione Yukawa! Single-take recordings from Yukawa lie at the heart of the album, with her soothing voice and simple guitar arrangements supported by lush symphonic accompaniment. Yet despite the varied arrangements, Yukawa's voice is the star of every song. On "Saint-Exupéry" Yukawa's voice is as small and gentle as the flickering light of a candle, just barely floating over strings and finger-picked guitar. In comparison, "Kaze no Uwasa" sees her voice overdubbed and layered; with strings interspersed between a whole chorus of Yukawas, with her own voice her only accompaniment at times. With the album loosely based on the concept of "A story with 10 protagonists", each song seems to take on a life of its own, a veritable protagonist in the story that is 10 no ashioto.
※Credit card payment
Payment for this product will be made before the product is released (payment at the time of order)
If you wish to cancel or refund your order before the release date, please contact store@p-vine.jp
---
---
---
---
---
■Track list
SIDE A:
1. ポーラ
2. 枯葉
3. だれがつけただろう
4. バースデイ
5. あなたの国へ
SIDE B:
1. サン・テグジュペリ
2. Jasmin
3. 語られない人のうた
4. vincent
5. 風のうわさ