---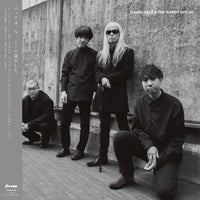 HAINO KEIJI & THE HARDY ROCKS『You're either standing facing me or next to me』LP
PLP-7849
Format: LP
Price: ¥ 3,980 + tax
Release date.:2022/09/07
★First complete limited edition
This is the only rock. I disclose the language of rock as I say it, as if the seals of an ancient document are being unsealed.
――Keiji Haino

Keiji Haino is an internationally acclaimed musician who made his debut in 1970 as vocalist for the avant-garde rock band Lost Arraf, formed Non-Lost in 1978 and since then has worked in a variety of forms, including with and without blotting, Aisu Kyou, Vajra and Sanhedrin, in addition to his solo career.

The long-awaited studio album by the rock band HAINO KEIJI & THE HARDY ROCKS, formed in 2016 by Haino, who has always pursued the 'now', together with young talented musicians including Masami Kawaguchi (Kawaguchi Masami's New Rock Syndicate).
The recording was done at GOK SOUND, a well-known analogue recording studio, with Yoshiaki Kondo, the band's highly trusted engineer.
Haino has developed a clear concept of being a vocalist and singing his own origins in rock 'n' roll, R&B, soul, jazz and even Japanese songs in English, and has been actively performing live, and in 2021 a live recording was released by a UK label for distribution to good acclaim.
The Rolling Stones, The Doors, Bob Dylan, The Who and other classic songs are thoroughly deconstructed and reconstructed to expose the "true nature" of the songs for the ultimate in real rock.
Its impact will appeal to a wide range of rock fans of all generations.
---
---
■Track list
SIDE A:
1. Down To The Bones
2. Blowin' In The Wind
3. Born To Be Wild
4. Summertime Blues
SIDE B:
1. (I Can't Get No) Satisfaction
2. End Of The Night
3. Black Petal
4. Strange Fruit
5. My Generation