---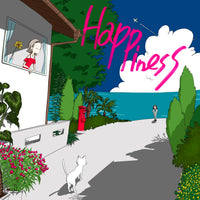 Junk Fujiyama 『Happiness』LP
PLP-7184
Format: LP
Price: 3,500 yen + tax
Release Date:2021/10/20
A Japanese artist sent by supervised by Toshikazu Kanazawa!Junk Fujiyama has produced many famous songs as the standard-bearer of CITY POP, which is booming in Japan and overseas.Following the latest studio REC original album "Happiness" and CD, LP will be released!

An ongoing city pop tune with the essence of the 70's and 80's, including familiar songs such as "My Only SUNSHINE", "Magic Tweet", and "Summer Acceleration ~ Kiss In My Heart ~". Full of.── Toshikazu Kanazawa

"My Only SUNSHINE" which won the top spot on the Spotify viral chart three times, "Magic Tweet" featuring FIRE HORNS, "Summer Acceleration ~ Kiss In My Heart ~" which colored last summer, of the album A must-listen album for music fans seeking Good Music, including the lead song "Lovely Universe" with a glittering melody, the gem ballad "TABLE 9", and a total of 10 songs full of exhilarating melody with a CITY POP feel.
Arranged by Tatsuki Kamiya, a young creator who composes half of the songs on the album. The sophisticated sound that runs through the past, present, and future of CITY POP skillfully incorporates the essence of pop, AOR, soul, rock, folk, etc. and outputs it with a nostalgic but new feeling, junk his Fujiyama's It makes emotional vocals stand out more.
The up-and-coming "hikari & amp;-" is in charge of the illustration of the jacket, and it is a pop work full of universal "Happiness" feeling.
---
---
---
---
■Track list
SIDE A:
1. Lovely Universe
2. Summer Acceleration ~ Kiss In My Heart ~
3. Daily Rhapsody
4. Butterfly
5. TABLE 9
SIDE B:
1. My Only SUNSHINE
2. Magic tweet
3. Strategy
4. Repentance
5. Let's meet tomorrow