---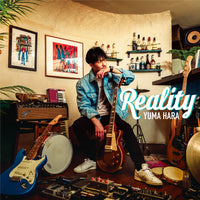 YUMA HARA『Reality』LP
PLP-7173
Format: LP
Price: 3,500 yen + tax
Release date:2021/09/29
★ First time limited production
★ With obi/p>
The first Japanese artist to be sent out by supervised by Toshikazu Kanazawa!World-class urban soul by young Toshihide YUMA HARA who shows overwhelming talent as a producer / guitarist / multiplayer is here!

A rare talent with DNA such as Quincy Jones and Roy Ayers, a fresh sense in their twenties, and outstanding playing skills, the analogization of the whole body of the second album released by YUMA HARA Decided!

A masterpiece that is truly multi-talented, not only composing, arranging, and producing, but also playing most of the instruments alone!Killer tunes such as "The Way Back feat. Ruri Matsumura" and "Stay With Me feat. Monique Marian" in urban grooves, and a new mix of popular songs in collaboration with world-famous disco creator and ally T-GROOVE. "Be Free (T-Groove Remix)", gospel number "Light in Our Days feat. Azumi Takahashi, JUDY, Ruri Matsumura" with the participation of popular singer Azumi Takahashi, "City Life feat" The whole story includes the album version of ". Joy T" and EW & F's killer cover "Brazilian Rhyme feat. Hanah Spring", and the beautiful ballad "You Are feat. Hanah Spring" that impresses you.In addition, in the instrumental songs, you can fully enjoy this outstanding guitar play sought after by famous artists!

From soul / R&B, acid jazz, AOR to jazz fusion, this is the birth of a work that should be a substitute for the business card of YUMA HARA, a brightest hope that Western music fans must listen to!
---
---
---
---
■Track list
SIDE A:
1. Wrapped In Mystery
2. City Life feat.Joy T
3. Candy
4. The Way Back feat. Ruri Matsumura
5. Regret
6. Be Free (T-Groove Remix)
SIDE B:
1. Sorry
2. Light In Our Days feat. Azumi Takahashi, JUDY, Ruri Matsumura
3. Brazilian Rhyme feat. Hanah Spring
4. Stay With Me feat. Monique Marian
5. You Are feat. Hanah Spring