---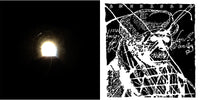 [With bonus CD-R] "Aburadako" (hole board)
2LP

+ "ADK" LP set

PLP-7164 / 5 + PLP-7166
Format: 2LP + LP
List price: 8,500 yen + tax
Release date: 2021/08/18

★ P-VINE Online Shop, Record Shop Base, Disk Union Limited
★ Completely limited production
★ With obi


■■ Set limited benefits:
Bonus CD-R: "Currently Last Live / 2009. Koenji show boat"
The program is only the songs before the 1st! Unusually played the entire early songAt the momentlastFull recording of live sound source!
* The benefits will end as soon as they are exhausted.



[Aburadako / Aburadako (hole board)] 2LP
Since its formation in 1983, Aburadako, a rare band that has traversed the territory with no predecessors or followers, and the 6th album (commonly known as "Human") released in 2004 have been made into LPs. All 10 songs, about 60 minutes.
There are a lot of masterpieces such as "Miyako Dust Pore", "Summer Cold to Fish School", "Ginen", "From the Window of a Bicycle", and "Triple Rainbow" that sprain your legs and shake your brain. I want you to drown in the pleasure of this hit-pop sound that goes around and undulates in the complex and mysterious music that pursues the fluctuation of the rhythm just before the hair, with philosophy and ghost stories becoming modern poetry. The one and only psychedelic punk album.

[Aburadako / ADK] LP
A compilation that covers all the flexi discs and 12-inch songs released by Aburadako from ADK before the 1st album (1985), and all the songs that participated in the Tokuma Japan compilation.
Despite the straightforward punk / hardcore sound that can't be imagined from the subsequent Aburadako, Hirotomo's unique sense of language and sense of humor is fully demonstrated, and there is already a foreign existence that is not similar to any other band. There is a feeling. The first LP in this form.

 

* Orders cannot be canceled after booking
* The shipping date will be the day before the release date (2021/08/17 shipping)
* Payment can be made by paypal, credit card, or cash on delivery.
* Paypal will be settled at the time of ordering
* Credit will be settled at the time of shipment
* If you purchase products with different release dates at the same time, we will ship according to the latest release product.
---
---
---
■ Track list
Aburadako "Aburadako" (hole board) 2LP
SIDE-A:
1. 1. City dust pores
2. School of fish for a summer cold
3. 3. magnetic field
Four. Ginen
Five. Fast dance to me
SIDE-B:
1. 1. Projection tunnel
2. Sandy beach to the marsh
3. 3. Bare hands
Four. From the bicycle window
Aburadako "ADK" LP
SIDE-A:
1. 1. Running high
2. Patience
3. 3. Humiliation of Jerusalem
Four. Jueju
Five. Nothing
6. Atomic bomb
7. 7. Rice nist
8. 8. Kristallnacht
SIDE-B:
1. 1. WHITE WOLF
2. LOGOS
3. 3. Brick hill
Four. Childhood
Five. Mirror landscape
6. OUT OF THE BODY