---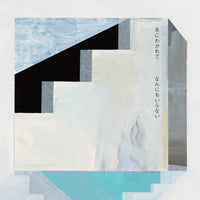 FUYU NI WAKARETE『Nannimo Iranai』LP
PLP-7139
Format: LP
Price: 3,500 yen + tax
Release date:2021/07/21
★ First-time limited production
I have to live in my spring in winter-a trio band by Saho Terao, Ko Iga, and Reisaburo Adachi, which bears the title of the poem by the writer Midori Ozaki, in winter. Two songs, the debut 7-inch single "Listen to your ears" and the coupling "I sleep with a blanket of kindness" released almost at the same time as Saho Terao's 8th album "For the Untold Things" in 2017. The long-awaited LP version of the first album including the new mix of. From songs that can be said to be a new frontier created by the intersection of the rare talents of the three parties to pop songs that are full of dynamism, this masterpiece is rich in variety but leaves a lingering finish like a poetry book.


■ A variety of singer-songwriters, Saho Terao (vo, p), Haruomi Hosono, Gen Hoshino, Hanaregumi, etc., who continue to produce unwavering masterpieces such as "Oval Dream" and "For the Untold Things". Rei Adachi, a bassist who supports various artists, Ko Iga (b / lake, Old Days Tailor), a member of one-sided thoughts, support for artists such as Keiichi Suzuki and Hei Tanaka, and other multi-players who handle everything from producing and recording to solo activities. A band consisting of three people, Saburo (ds, sax / Reisaburo Adachi and delicious water), divided into winter. This work together with Saho Terao's latest album "For the Untold Things", which was released almost at the same time as the 2017 debut 7-inch single "Listen to your ears" (coupling "I sleep with a blanket of kindness"). Their first album, which attracted attention with (also recorded in), is the long-awaited LP.
■ In addition to the two songs released in 7 inches, pop tunes such as Motown-style "Moon Night Night" and New Orleans-style beats and exciting "Kanrohi" are lined up. The ballad "I sleep on a blanket of kindness", which is also heard as a masterpiece, and the title song "I don't need anything", where abstract performances gradually join the passionate song and saxophone, have a face as a writer. Terao's point of view of singing an unsettling human being is a work that touches my heart. In addition, the two songs of "Kimi no Machi", a city soul full of floating feeling, Iga is in charge of the guitar and Adachi is in charge of the bass, and "White Hill", which gives off a different light even in the album, are made by Iga. The flute like the song of Wakana Ikeda, the guest, and the nostalgic melody of "Winter Divided" are made by Adachi, and are expected to continue as a band. Contains all 10 songs.
■ A mixture of old and new pop, jazz, and electro, and various sophisticated ensembles such as abstract and nostalgic, created a world view that is a bit different from Terao's solo work led by the piano. An experimental yet nostalgic 2018 pop music monument! A masterpiece that I would like to recommend to female singers, songwriters and fans such as Taeko Ohnuki, Sachiko Kanenobu, and Yumi Arai!
---
---
---
■Track list
SIDE-A:
1.君の街(LP MIX)
2.耳をすまして(LP MIX)
3.白い丘
4.おかしなラストプレイ
5.月夜の晩に
6.冬にわかれて
SIDE-B:
1.甘露日
2.なんにもいらない
3.優しさの毛布でわたしは眠る
4.君が誰でも