---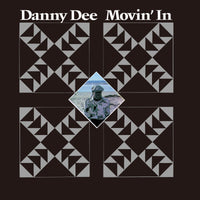 DANNY DEE『Movin' In』
PLP-6790
Format: LP
Price: 3,500 yen + tax
Release date:2021/02/24
★Groove-Diggers
★ First-time limited production
That mellow soul masterpiece Lil Albert "Movin Inn" will be reissued under the name of Danny Dee!

An unidentified jacket visual in the finest mellow groove.
With a gorgeous backing band by top West Coast musicians, the rare groove with exhilarating grooves and mellow vocals-the masterpiece of the illusion (?!) Pursued by soul collectors is finally revived!

Due to various circumstances, this work, which has the same content as Lil Albert's "Movin Inn" but was released under the name of Danny Dee, was taken up by many guide books and its existence itself was known, but the group The ultimate collector's board sought after by digger all over the world due to its rarity / rarity! Of course, the sound is the same as the name of Lil Albert, so it is a superb mellow soul that makes you feel the island-West Coast taste by high quality production with the participation of famous studio musicians!
---
---
---
■Track list
SIDE A:
1.Movin' In
2.My Girl Friday
3.Who Do The Vodoo (Baby Like You Do)
4.Roads

SIDE B:
1.Daydreamin'
2.Outrageous
3.Fox Of The Year
4.Loose Woman
5.River Of Steel